Address:
530 & 520 Pimiwidon St, 655 & 611 Wanaki Rd, 3000 Tawadina Rd.
Parking:
Indoor: $150/month
Utilities:
Tenant pays all utilities. Wifi included in rent.
Living in Wateridge Village
Wateridge Village is a ground-breaking 310 acre vibrant and sustainable new community minutes from the downtown core. The site celebrates Algonquin heritage, the military legacy of the lands and the brilliance of modern urban design while overlooking the Ottawa River.
Available Units
2 Bedrooms + Alcove | 2 Bathrooms
Building Amenities and Features
This exciting new enclave of Flats designed by Barry J. Hobin, each vary slightly in their orientation, colour massing or materials, but are alike in their modern sophistication. Building faces are dynamic, their presence strong yet complimentary to the natural surroundings.
Deep roof overhangs and flat roof accents are reminiscent of the classic Prairie style and blend with more contemporary touches to create a distinct style for today. Great attention to detail in the landscaping and topography ensures a beautiful setting, while vast glazing and stunning balconies and terraces encourage a strong connection to the outside.
Every suite is professionally designed, with Uniform's exceptional attention to detail. Suites range from 760 to 1450 sq. ft. and feature expansive windows, custom cabinetry in the kitchen and ensuite bathrooms, topped with stone counters.
Dens/alcoves and walk-in closets are available in many suites. Each building includes secure underground parking and convenient storage space.
Full-size elevator service to all floors, including heated and ventilated indoor underground parking level
9' ceilings throughout main living areas, excluding minimal bulkhead locations as indicated on plan, and smooth finished ceilings throughout
Stainless steel appliance package includes: Fridge with bottom drawer freezer, dishwasher, over-the-range microwave, stove, and stacked white washer/dryer
Boutique Living in a comfortable setting with only 24 units per building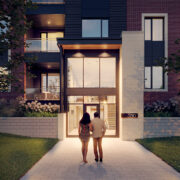 Inquire About a Unit
Click below to get in touch with one of our rental representatives. Be among the first to live in our thoughtfully designed urban rentals. We look forward to hearing from you!